Wall Street Sentiment Weekly Report 7/29/07
Published Sunday 7/29/2007
By Mark Young of Equity Guardian Group


Short-Term Sentiment: Neutral to Bullish.

Overall Intermediate-Term Sentiment: Neutral.

Individual Investor Sentiment: Neutral to Bullish.

Small Speculator Sentiment: Neutral to Bullish.

Small Hedge Fund/Manager Sentiment: Bearish.

Longer-term Trend: Positive.

Intermediate-term Trend: Negative.

Short-term (one-day) Signal: None, but I'm looking long.

We are trading these signals intra-day with Premium subscribers--contact us for details.

Ideal ETF Portfolio (tracking portfolio):

50% Short SPY at 151.
50% Short SPY at 152.

We're fully short. We may dump or shift 1/2 to the ITW on a bounce.
---
Introduction
This week, we've got some very mixed sentiment and a big heads up for a turn. See the two new charts below. I'm pretty sure that whatever low we make will be tested soon too, from what the sentiment story is showing.

Results of the Wall Street Sentiment Survey (formerly known as the Fearless Forecaster Sentiment) taken after the close on 7/27/07

Response was to this question: "At the end of next week will the S & P 500 close up (bull), down (bear), or unchanged/no opinion (neutral)?"

Weekly BULLS: 50%
Weekly BEARS: 19%

Our `Smart Money' Pollees are 100% Bullish and 0% Bearish.

Our Amateur Trader Pollees are 67% Bullish and 0% Bearish.

The Senticator is Bullish.

Last time, I said that my call would be "for choppy weakness into Wednesday and then a bounce. This is a market to be flexible in. I still believe that we'll be testing the lows again, but it may be after we get whatever bounce we get (and it may well be to new highs). " Well, I was dead right into Wednesday, and we did get a bounce, but then the wheels fell off this market. We did, however, manage to test the lows. Of course, we took them out. I think we can take a B- thanks to getting the general bias right, but we were dead wrong on the prospect for a bounce late in the week. In our defense, our Wednesday morning letter showed our change of heart when we wrote, "The amateurs have been trained, it seems, to buy the dips. We've got 4 days to get a rally from the MACD Sell Fade. Frankly, if it rallies today, we ought to short it." Now, that's not much help to weekly players, but then that's why we look at the sentiment every day, because when you near support and see absolute confidence among the biggest amateurs, it's time to re-valuate one's Bullishness.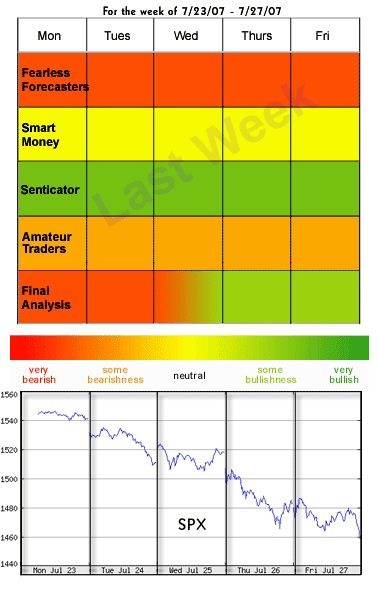 The Mechanical Senticator model went long at 154.10 and exited at (per ISA Daily instruction) 152.10 for a loss. The Subjective Senticator Model went 1/2 long at 150.76 and at 150.25 per ISA Daily updates, and exited at 150.51 Thursday for a dandy break even. The Subjective Model bought a full position at 146.45 and we advised by alert for traders to hold over the weekend. Note that the Senticator Models are based upon only one indicator and do not reflect our overall opinion. If the Senticator is Bearish or Bullish, the Mechanical model HAS to go short or long.

Proprietary Surveys
This week, the WSS Surveyees are learning heavily Bullish on low participation, which is surprising. The "Smart Money" guys are 0% Bearish and 100% Bullish, and those in our survey of "amateur" (more emotional) traders are getting Bulled up, which is again, not so Bullish. That's not a lot of help for the market, but the Senticator does suggest that we can get a bounce this week. It's just that there's some pain likely.

Message Board Sentiment
The message board sentiment poll shows Bulls at 43% and Bears at 39%, which is Bullish since these guys tend to be right more often than not. Participation was about normal. The Actual Position Poll has 18% fully long and 22% partially long. 12% are partially short and 20% are fully short. This is right at my 20% threshold, and that's neutral. There are an awful lot of Bulls, however, given the damage. Of course, these guys get positioned right often and there's not much confidence among Bulls. Now that we are in a down trend, the Fully Long Bull/Fully Short Bear ratio needs to be below 60% to give a Buy. We're at 89% and rising. The weekly Fearless Forecaster Poll shows 64% Bulls at this point, which is Bearish.

Check out www.traders-talk.com for early updates of the sentiment polls every day.

Our T-4 Turn Indicator went out at 90 which is a signal. I think this one is a repeat Buy. I think it's worth a shot, but it's clearly a risky trade. The last clear signal was last Friday, a Sell. We might call Tuesday's signal a "Buy for a bounce" or a follow on Sell, but it sure wasn't very Bullish. Typically we want to see readings above 80 or higher before we look for worthwhile turns. This indicator doesn't catch every top and bottom, but it is a great "Heads up!" indicator.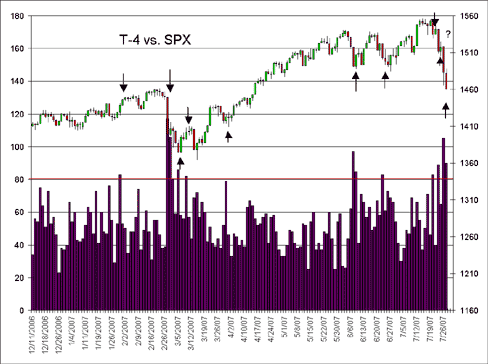 Options Sentiment
Daily P/C ratio: 1.38. Buy (surprisingly weaker).
10-day P/C ratio: 1.12. Neutral.
Equity P/C ratio: 0.77. Buy (but we can and should go higher).
OEX PC ratio: 1.03. Buy.
OEX 10-day PC ratio: 1.57. Bearish.
OEX $-weighted* P/C ratio: 3.75. Screaming Buy.
QQQQ $-weighted* P/C ratio: 1.75. Neutral. Why no Buy?
ISEE Sentiment Index: 132. Surprisingly high.
Relative VIX: Buy.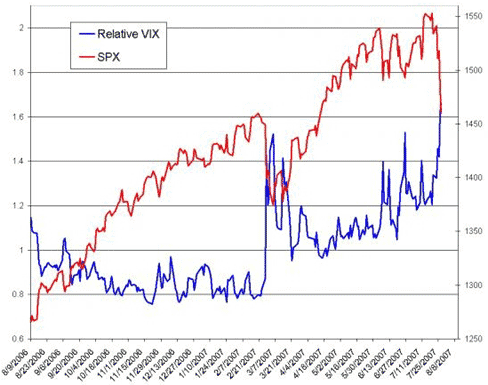 For a discussion and additional charts of the Relative VIX, click here: http://www.traders-talk.com/mb2/index.php?showtopic=73525

The options data are looking much more Bullish, especially the OEX data. The Relative VIX is also saying that a good trading low is near. Still, what's up with those QQQQ P/C's and ISEE? We can make a low at any time, but this data says that we need to be on the lookout for more ugliness at any time.

The ISEE Sentiment Index indicator is contrarian; traditionally, over 200 is too optimistic, under 100 is too pessimistic.

General Public Polls
The Street.com reported a big drop in Bulls to 34% and a jump in Bears to 42%. This is a fairly big shift, but usually rallies begin with a bit les Bullishness in this poll. TSPTalk, a large site devoted to Thrift Savings Plan management and personal finance is flashing a Buy with 45% Bulls and 41% Bears. That's a Buy by their own standards, but I'm not really comfy with that. Last week, AAII reported 44,21% Bulls and 36.84% Bears vs. 41.77% Bulls and 36.77% Bears. This is a solid increase in Bullishness in a sloppy market. While we are a long way from Sell territory, that's Bearish. Investors Intelligence reported that Bulls rose to 53.9% vs. 52.30%, and Bears fell back to 18.00% vs. 19.30. The shifts were fairly modest, but they showed more Bullishness as the market was curling over. That's even more Bearish than before. LowRisk.com reported that their sentiment poll ended Sunday was 31% Bullish vs. 30% Bullish last week, and 40% Bearish vs. 53% Bearish the previous week. This is a surprisingly bullish shift after a nasty expiration. I'm thinking that's Bearish. Mark Hulbert's HSNSI fell to 41% and that's a solid drop in Bullishness. That's not much help to the Bears, but it's not enough to really support a rally in a down trend--if that's what we have. Basically Neutral. Lazlo Birinyi reports that his Blogger Poll has 26% Bulls and 34% Bears. That makes some sense, but it's also a lot of Bears. Nothing that suggests big weakness ahead.

Rydex Sentiment
Our Rydex data shows that non-Dynamic Bull funds had $1MM (net) outflows on another ugly day. There was $3MM in S&P fund buys. The non-Dynamic Bear funds saw barely $1MM of (net) inflows. It looks like amateurs are doing minimal selling and little buying of Bear funds. No real fear there. That's still Bearish. Dynamic Funds saw net Bull fund buys of $25MM, and Bear fund net sells of $6MM. The Dynamic players were going back long. I have no idea what these guys are thinking or doing, but they may have bailed at the early cut-off and then re-bought at the late cut-off. That could be Bullish. The RSO showed a $41MM Bearish asset shift on another big down day. This is no signal but it's not Bullish, unless the smart money sold early and re-bought at the close.

Conclusion
Last Thursday, we said that dip-buying was fuel for a decline and that we needed to see some real fear in at least some of the sentiment data. I also advised that the prior lows were very much in play, and then around 148500 on the futures. We got that easily and bounced but it smelled like "an orderly decline" hand-delivered by "the powers that be" and that the low was suspect. I thought that we'd get some real gut wrenching sentiment before the end. My call was for a bounce, a failure, then bounce again. We got a bounce, a failure, another bounce and yet another failure. This ought to be generating some serious Bearishness, but it's not. Now, we ARE seeing some signs of Bearishness, no doubt and we are also seeing some extreme readings. This says to me that we're near some sort of a low. No more than 4 days away and probably sooner than that. The sooner it comes, the more suspect it will likely be. I'm going to give you a projection, but it will be very fluid and will change based upon volume and sentiment readings as we progress. I'm thinking that Friday's late sell off is a set-up. I'll bet that if the powers that be can manufacture some good news, they will, and that we'll get some sort of a bounce on Monday. Ideally, it'll gap up well above the futures close and not look back. This will trap a ton of Bears and leave Bulls wondering where to get in. The rally won't hold, in all likelihood, and we'll trade back down, probably taking out the lows. My call will be for a rally on Monday, down on Tuesday into Wednesday, and some sort of a rally into Friday. We'll probably fall into the following Wednesday, but we'll worry about that as we get closer. Play it very nimble, but it's probably OK to nibble long on weakness.




We do not have a ST Sell Sentiment signal. Since we've been publishing our ST Sentiment Signals, we've had 48 trades and 36 winners. We're much more active now and I'm offering more set ups when I'm not going to be around. If you'd like a trial, feel free to contact us.

The Mechanical Senticator model will go long at the open. The Subjective Senticator Model is already long at 146.45. Stop at 144.00. Sell at 148.45 or better. Remember, these models must trade in the direction of the Senticator or not at all.

****************
Ideal ETF Portfolio (tracking portfolio):

50% Short SPY at 151.
50% Short SPY at 152.

We're fully short. We may dump or shift 1/2 to the ITW on a bounce.

---
Past performance is no guarantee of future returns. All information included in this missive is derived from sources we believe to be reliable, but no guarantee can be made to that effect. None of the forgoing should be construed as an offer or solicitation to buy or sell any security. The publisher may have a long or short position in the funds or securities discussed at any given time. We aren't your advisor, unless you have a signed contract with us. Please review any trade that you do with your trusted advisor FIRST.
---
If you'd like to receive the Daily Trade Navigator, you'll need to make sure to order at this link (please indicate your subscriber status in the "notes"). WallStreetSentiment.com

If you are a Premium or Institutional subscriber, your Daily Navigator and Premium upgrade subscription is included.

Mark Young
Editor
---
ABOUT SENTIMENT AND ANALYSIS

The Fearless Forecaster Sentiment Poll is taken each Friday from a generally static pool of experienced technical analysts (both private and professional). The Fearless Forecaster Sentiment is not normally a good fade, though there are times when it can be.

The Fearless Forecaster sentiment data is useful on the short term; the Fearless Forecasters tend to be right. Typically they are right sooner rather than later, if there's a large plurality. On the flip side of the equation, if 90% or more are Bullish or Bearish, the odds of them being right over the very short term are huge, but the odds of a major turn (in the opposite direction) soon thereafter are also quite good.

We have also found that when the Fearless Forecasters are evenly split, look for a BIG move in either direction, but usually down.

Over the years, we have found a number of other tools to help in evaluating the Fearless Forecaster Sentiment. We publish this in our weekly "Institutional Sentiment & Analysis" (a part of our institutional research). These additional tools are our "Smart Money" poll, and our Senticator. Both are proprietary polls run by us.

We have found that the Senticator tends to be right by the end of the week (as much as 82.7% of the time), though it tends to be more accurate in a rising market than a falling one.

The "Smart Money" pollees are very useful when there is divergent opinion. It's generally NOT a good idea to fade the "Smart Money" unless "'EVERYONE'" (all sentiment measures) is in agreement. When in doubt about the meaning of the Fearless Forecaster Sentiment Poll, defer to the "Smart Money" poll. The "Smart Money" guys are folks with whom I've worked or whom I've watched for YEARS. They all have different approaches and they're all VERY good (not infallible, just good analysts/traders).

Subscriptions to Wall Street Sentiment Weekly Report are $99 per year. This also includes special sentiment updates and reports. Our polls are unique and insightful, and our analysis is some of the most accurate on the Street.

Order today by calling 1-800-769-6980 or order on-line at WallStreetSentiment.com