Wall Street Sentiment
"The most profitable and useful sentiment on Wall Street for more than a decade. Period."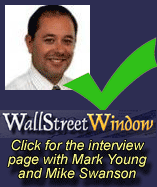 Testimonials:

"Some of the most valuable information I get is from Mark Young's weekly service sentiment polls. He not only provides the raw sentiment numbers, but he also performs a remarkably insightful and accurate analysis of the poll results. I would hate to be without it."
C. Swenlin
DecisionPoint.com
"The Wall Street Sentiment service is a very handy tool to have in one's trader's toolbox. [Mark Young's] special take on sentiment can help keep you on the right side of the indexes, even with the seemingly irrational moves we've had since 2000."
Enzo V.
New York City, NY

"I have been trading the markets since the early 1970's and have tried just about everthing out there..with very very modest success...that said..i can tell you that I find your "sentacator".. the most accurate..and simple to use technique for predicting the near term direction of the S & P index.....this is stated with a deep sense of thanks to you for presenting this product... you have my heartiest congratulations."
Mike C.
Harrisburg, PA

"Mark Young's service is an invaluable sentiment service. Using it with other indicators can give the fine edge to making a successful trade, and passing on a bad one."
Karen H.
New York City, NY

"Mark, just wanted to send you a quick complimentary note on the service. Most of my market analysis prior to Aug. 2003 has dealt with classic TA and price action. I've thought about investor sentiment and crowd psychology over the years, but never followed a quantifiable, "for pay" service until subscribing to your service [Trade Navigator]. I like it. I feel that it helps give me a more complete "feel" for the equity market. Please make sure that I'm rolled into the new premium service and keep up the great work!"
Jim T.
Germantown, TN

Wall Street Sentiment ranked #2 for the year and long term in Timer Digest. See our cover article HERE.
Get a FREE TRIAL HERE
The simple fact is that investor sentiment is one of the most powerful forces in the stock market. It can make the difference between selling out at a market low and buying there. Literally, it can make the difference between big losses and huge profits.

Have you ever wondered why some traders routinely buy right near the market's lows, when most sane people wouldn't even consider buying?

The reason why they are able to make such masterful market moves is that they understand investor/trader sentiment. Isn't it time YOU joined the ranks of masterful traders?
WE can help you get there.

The stock market is an emotional place to be, and without the proper tools, anyone can fall victim to the stressful emotions that make 90% of all traders lose money at precisely the worst time possible.



The secret to profitable trading is not a secret.

The market is driven by two things: Fear and Greed. Too much fear, and stocks get mis-priced on the down side. Too much Greed and they get mis-priced to the upside. The key to knowing how much is "too much" lies in the careful study of Market Sentiment. Trading and investing is inherently emotional, and when a trader's emotions overrule his logic, that trader is setting himself up for a loss. The trader that knows when others' emotions are overruling their logic is setting himself up for gains.

We track those emotions.

Market Sentiment is not a secret. People have been talking about Fear and Greed for generations. Few, however, understand how to use sentiment to consistently improve returns and reduce risk. This is where we come in. We are your experts. We track the shifting nature of our financial markets and their participants and devise new ways of tracking their emotions and analyzing their impact.

Experienced traders already know what they need to do, they're just afraid of doing it, and it's a very expensive mistake to make. We can give you the confidence to pull the trigger when others are afraid to and the wisdom to distance yourself from the herd--where the big profits are made.




Professional investors know that real money has always been made by getting with a market trend and staying with the trend. Those who profit from the markets know this simple rule and have seen it work. Market Sentiment can help traders determine a trend's staying power, the strength or weakness of the trend, or when the trend's strength is questionable or even ending.

We have the solution.






The Wall Street Sentiment Weekly and the Wall Street Sentiment Daily are your personal guides to following this key Market Sentiment. By using time tested indicators and our unique proprietary sentiment polling, we have predicted 4 out of the last 5 market tops, and all of the recent bottoms.

How do we do it?

We can tell you this, we can't do it alone. In addition to myriad public sentiment measures, and some of our making, each week, we depend on three carefully conducted surveys of three specially selected (and static) pools of participants -- each with their own particular expertise in the markets and experience levels. It's the equivalent to the perfect market diversification, only in terms of backgrounds, interests, and approaches.

Don't be one of those traders!

We survey each participant at the end of each week and tally the results according to a proprietary algorithm, resulting in three separate conclusions. These three distinct conclusions, when set against each other, have been able to accurately predict the upcoming week's market action. And this is no fluke, we've been doing this for 10 years.

Wall Street Sentiment Daily takes a leap ahead and brings you not only the Weekend Report and Investor's Letter, but also brings you the timely daily sentiment updates you need to trade with. We look at the options data in ways that no one else does, as well as the actual holdings of market timers.
We also measure Traders-talk message board sentiment, which, unlike many other sentiment measures, has a good track record of accurately spotting tops. This is all in addition to analysis of nominal and $-weighted put call ratios, as well as the numerous other polls and surveys. But there's more...


To find out more about our services, click on [Our Services] in the upper navigation menu, or click on the images below next to the service that best suits your trading needs.
If you need to know where to jump on the trends, when to add to your positions, and when that trend has changed, you need the Wall Street Sentiment

Weekly

Report.
If you need daily hands-on information and instructions on how to successfully trade on Sentiment everyday, as well as the Daily Rydex Speculation Oscillator insight to the real market movers, you'll want to look at the Wall Street Sentiment

Daily

Trade Navigator.
If you need intraday real time specific trading entry and stops using Sentiment, you need the Wall Street Sentiment

Premium

Service.

You can join the thousands of investors, traders, and professional managers who have learned from the WSS reports, been stunned at the accuracy, and most importantly, made money from the Wall Street Sentiment Services.

For over ten years Wall Street Sentiment services have been called "The most useful and profitable sentiment on Wall Street."

Now find out why.

Get a FREE TRIAL HERE